Roasting Your Own Malts
Roasting your own malts is an excellent way to personalize your homebrew. Plus, it is easy to do at home with equipment you probably already have lying around.
But first, it is important to understand what malt is, what it contributes to your beer, and why roasting is so important.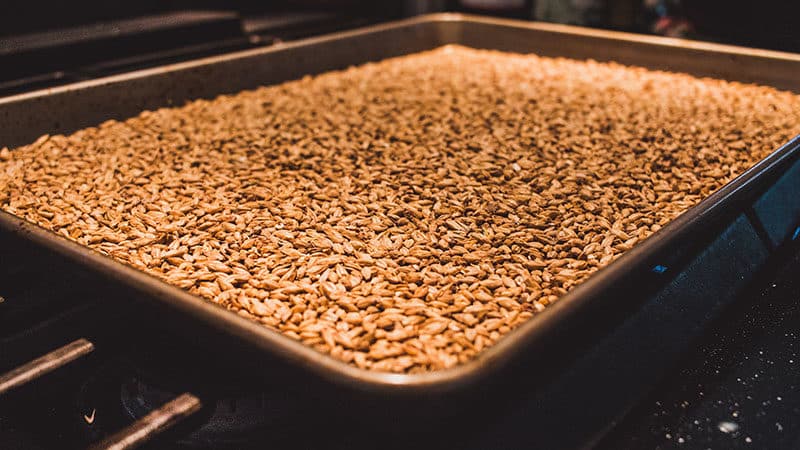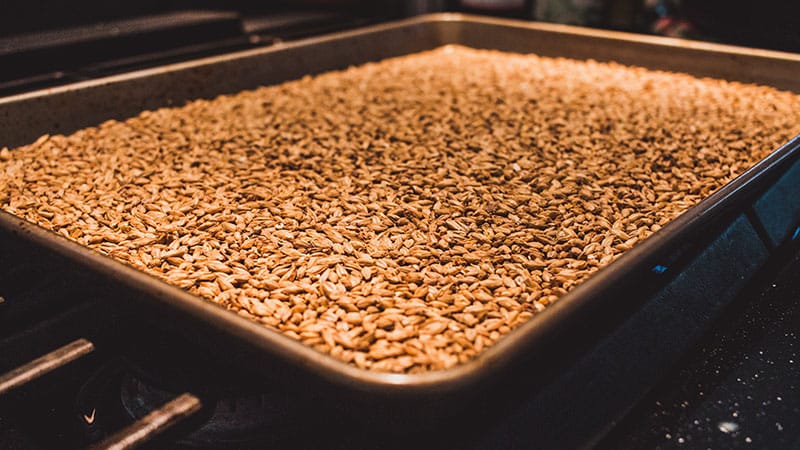 What Is Malt?
"Malt" is a term used to describe cereal grains (usually barley), which have been germinated and then dried. Malt provides the fermentable sugar in your homebrew; without it, the yeast would have nothing to convert into alcohol. Malt also contributes to the color, flavor, and aroma of beer. The specific colors, flavors, and aromas imparted by the malt depend on how it has been roasted.
What Does Roasting Do?
Roasting causes a chemical reaction called the Maillard Reaction, which is essentially a fancy scientific name for the process of "browning". The Maillard Reaction produces melanoidins, which create a brown color and toasty flavors. Maillard Reaction is the same process which gives bread crust, seared meat, and toasted marshmallows their distinctive flavors.
Roasting can produce flavors in malt akin to toast, bread, biscuits, honey, nuts, toffee, coffee, chocolate, and even ash. The exact colors and flavors produced by roasting depend greatly on three things: grain moisture, roasting temperature, and roasting time.
Dry vs. Wet
The moisture content of the grains being roasted influences the browning process. Toasting wet malt produces richer, maltier, more caramel-like flavors because moisture aids the Maillard Reaction. Toasting dry malt will produce drier, sharper, toastier flavors with less underlying sweetness.
Want even more homebrewing knowledge dropped right in your inbox?
Subscribe Now!
Temperature
Grains can be roasted at temperatures ranging from 200°F to 400°F. The higher the temperature, the darker the roast.
Time
Grains can be roasted as little as 15 minutes or as long as an hour. A longer roasting time produces a darker roast. Roasting time can also be influenced by the size of the grain (smaller grains will toast more quickly than larger grains), as well as the starting moisture content (wet grains will take longer to roast than dry grains).
What You Need to Roast Your Own Malt
1 lb of uncrushed pale malt
Any standard pale barley malt will do. Just be sure your barley is in the husk. Do not use pearled barley or any other sort of de-husked barley.
Once you get the hang of roasting, you can branch out and experiment with different sorts of grains. Wheat, rye, oats, and corn can all be roasted to add incredible flavor to your beers.
Great Western American Pale Malt - 5 lbs. Price: $6.89
If you click this link and make a purchase, we earn a commission at no additional cost to you. Last Updated: 04/19/2018
Baking pan
A jellyroll pan works great, but any sort of cookie sheet or cake pan will do. If you are using multi-purpose bakeware from you kitchen, you should line the pans with tinfoil to avoid getting any leftover fats or flavors in your grain. Another option is to buy a few new pans and dedicate them to roasting malts.
Oven
Any oven will do, but if your oven has a fan-forced or convection setting then that is even better!
Oven thermometer
You can't trust the internal thermometer in your oven. If you are going for consistency and precision, it is best to rely on an independent oven thermometer.
How to Roast Your Own Malts
Prepare your malt by spreading it evenly over your clean/covered baking pan so that it is not more than 1 inch thick.
The exact time and temperature you toast your grains is ultimately up to you and your desired result. If you need help deciding where to start, check out this this chart from Radical Brewing by Randy Mosher:
| | | | |
| --- | --- | --- | --- |
| Time | Temperature | Color | Flavor |
| 20 mins | 250°F | Pale Gold (10L) | Nutty; not toasty |
| 25 mins | 300°F | Gold (20L) | Malty, caramelly, rich; not toasty |
| 30 mins | 350°F | Amber (35L) | Nutty, malty; lightly toasty |
| 40 mins | 375°F | Deep Amber (65L) | Nutty, toffee-like; crisp toastiness |
| 30 mins | 400°F | Copper (100L) | Strong toasted flavour; some nutlike notes |
| 40 mins | 400°F | Deep Copper (125L) | Roasted, not toasted; like porter or coffee |
| 50 mins | 400°F | Brown (175L) | Strong roasted flavour |
Once you are satisfied with the roast of your malt, take it out of the oven and let it cool. Keep in mind that the malt will taste darker than it appears.
Transfer the grains into a brown paper bag and let the grains rest and mellow for at least two weeks before brewing. This allows plenty of time for the harsh, bitter aromatics generated from toasting to dissipate.
Make Your Own Crystal Malt
Crystal malt is soaked and roasted using a special method which converts the malt starches into fermentable sugars. Fortunately, it is easy to replicate this method at home.
1. Soak The Malt
Put 1 lb of uncrushed pale barley malt in a bowl and fill the bowl with water enough water to cover the grains. Let the grains soak for 3-12 hours.
2. Convert The Starches Into Sugar
Drain the soaked malt in a colander while you preheat your oven to 160°F. Some ovens don't get below 180°F or 200°F, and that is okay too as long as you keep the oven door cracked during this step.
Dump your wet grains onto cake pan, but don't spread them out yet. Let them roast for 1-2 hours. During this time, enzymes in the grain help convert the starches into sugar (similar to mashing).
The longer your roast the grains in this step, the sweeter the malt will be.
3. Dry The Malt
After the starches have been converted into sugar, it is time to dry out the grains and prepare them for toasting.
Do this by increasing your oven temperature to 220°F and spreading the grains out on the pan so they are less than one inch thick. Let the malt dry at this temperature for 2 hours, stirring occasionally to ensure the grains don't burn.
4. Roast The Malt
Once the grains are dried, turn the oven up to 300°F. Roast the malt for 10-60 minutes, stirring occasionally. Once again, the length of time you roast your malt depending on the darkness you prefer.
For reference, 10 minutes will produce a malt similar to Crystal 20L, 30 minutes will produce an amber malt similar to Crystal 60L, and 60 minutes of roasting will produce a very dark malt similar to Crystal 100L.
5. Let The Grain Rest
Let the malt cool, then seal it in a brown paper bag to rest for a couple of weeks before brewing.
Happy Brewing!
Craft The Best Beer You'll Ever Taste
Advice for modern brewers seeking to craft the perfect pint. Subscribe to our weekly homebrewing newsletter.