9 Best Brew Kettles for Homebrewing
The qualities that make the best brew kettle depend on whether you will be all-grain brewing, extract brewing, or something in-between. Then after considering the myriad features, and weighing their relative importance, most of us have to make some compromises based on budget.
A quality brew kettle will last for a long time – probably longer than you. And a carefully selected brew kettle can be adapted and repurposed if you decide to move into bigger batches or new brewing methods.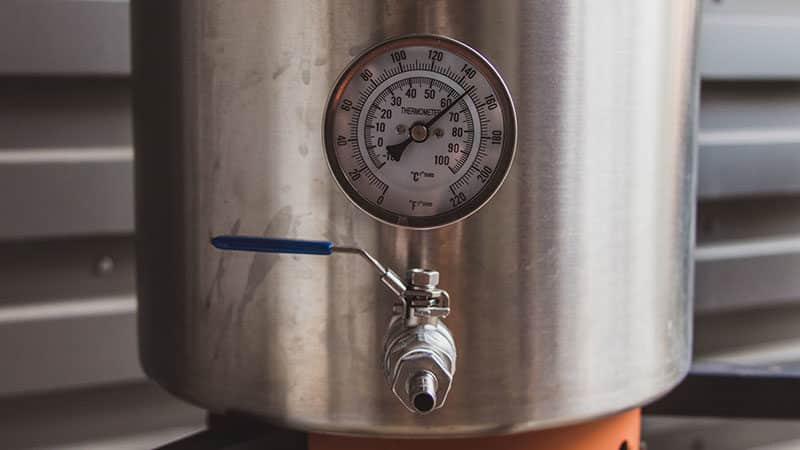 In this article, we outline some considerations to keep in mind when shopping for the perfect brew kettle, as well as the features available. Finally, we list some of the best brew kettles for various budgets with a detailed breakdown.
Brew Kettle Characteristics To Look For
Whether you are looking for no-frills or more bells and whistles, there are some essential features to look for in a new brew kettle.
Brew Kettle Material: Stainless Steel Vs. Aluminum
A common characteristic of the best brew kettles is material: stainless steel, food grade 304 being the top-of-the-line. It's durable and resists corrosion!
Aluminum is not as durable as stainless steel, but it conducts heat better. However, there's some concern that metal ions may leach out into the wort when using aluminum. But it's debatable whether this is an issue, as the wort is not acidic enough to react with it. And it reacts with caustic or oxygen based cleaning products producing dangerous gases in the process, which limits cleaning options.
Therefore, stainless steel is the arguably the best, and its lack of heat conductivity can be overcome with a tri-clad bottom: aluminum (most commonly) is sandwiched between two pieces of stainless steel to make up the base. Tri-clad gives you the durability of stainless with the heat distribution of aluminum.
Still, a few top-of-the-line kettles don't have tri-clad bottoms. The manufacturers have done testing and indicated that the problems with scorching and hot spots are only an issue when more viscous liquids than wort are heated.
Lastly, stainless steel looks better and lasts longer than aluminum. Although purely a cosmetic issue, aluminum does oxidize and discolor with use. It isn't harmful and provides a protective layer, but it's not as pretty as stainless.
Kettle Size
Is the capacity of the kettle well suited to the most common batch size you plan to make? Are you sticking to extract brewing? All-grain brewing? BIAB (brew-in-a-bag)? What type of home brewing adventures do you envision down the line?
For a 5-gallon batch (Extract Brewing):  an 8-gallon kettle should give you plenty of room for a full boil with some space to minimize boil-overs.
For 5-gallon batch (All-Grain): you'll need more space to accommodate your grain bill unless you're doing a partial mash. All-grain wort tends to foam more, so you'll be better off with a 10-gallon kettle if all-grain brewing is in your future. And you can still do all-extract batches in a 10-gallon kettle.
For 5-gallon batch (BIAB method):  you're better off with a 15-gallon kettle because you'll be heating your grains in the combined amounts of water you would use for mashing and sparging separately with all-grain brewing using a mash and lauter tun (MLT).
If you have ambitions to do larger batches at some point, you can do smaller 5-gallon batches in a 15-gallon kettle. Some would say it's not optimal, but many homebrewers love having the flexibility to accommodate a range of batch sizes, offering plenty of extra headspace for smaller batches, and making boil-overs a lot less likely.
Want even more homebrewing knowledge dropped right in your inbox?
Subscribe Now!
Dimensions
Many kettles are built with tall sides to reduce evaporative losses. The optimal ratio of height to diameter is said to be 1.2:1. Many of the kettles below follow this standard or are very close.
While it may not be a big deal if not exact, at the very least, using a brew kettle with tall sides will help reduce losses from evaporation and minimize boil-overs.
Volume Markings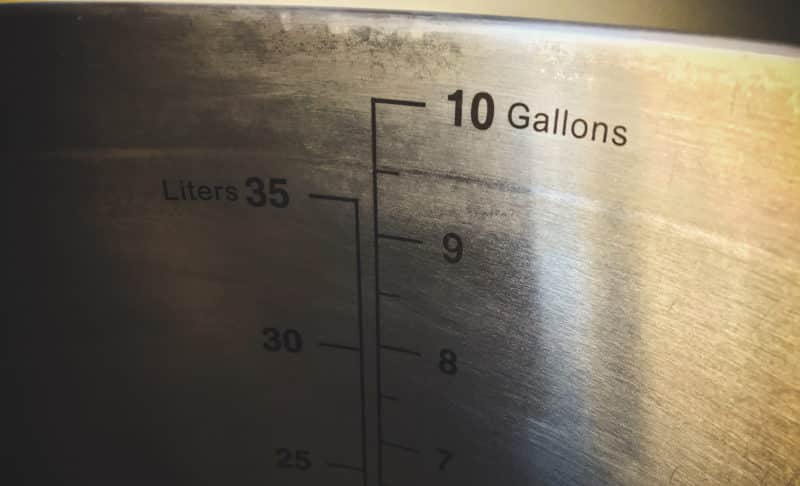 The last feature of most quality brew kettles is volume markings etched inside. Although there are other ways to measure how much wort is in your pot, this is usually standard on quality brew kettles.
Most kettles have measures in gallons and liters. Quart markings are less common but a nice touch.
Optional Brew Kettle Features to Consider
Beyond these basics of a no-frills kettle, there are a few standard features that brewing kettles often have.
Ball Valves
A ball valve for pouring off the hot wort is an excellent feature. While it's not a necessity, (you can always use a siphon) it can make getting your wort to the fermenter easier and safer. Wrestling around a pot of hot wort can be dicey and becomes even more of an issue with larger batches.
Something to thing to keep in mind, and often debated amongst homebrewers, is whether the ball valve or a coupling where you insert or screw in the valve should be welded into the kettle or utilize a weldless fitting.
When valves and thermometers and such are installed weldlessly (if that is a word), there are gaskets involved which can be cause for concern about leaking. Though many homebrewers report this isn't an issue with newer types.
If going for welded valves or ports, TIG sanitary welds are considered the top of the line.
In a nutshell, beyond cost, you'll want to consider whether being able to take a valve off the kettle is vital to you and how concerned you are about possible leaks (usually fixable with some plumber's tape a.k.a Teflon tape).
Thermometers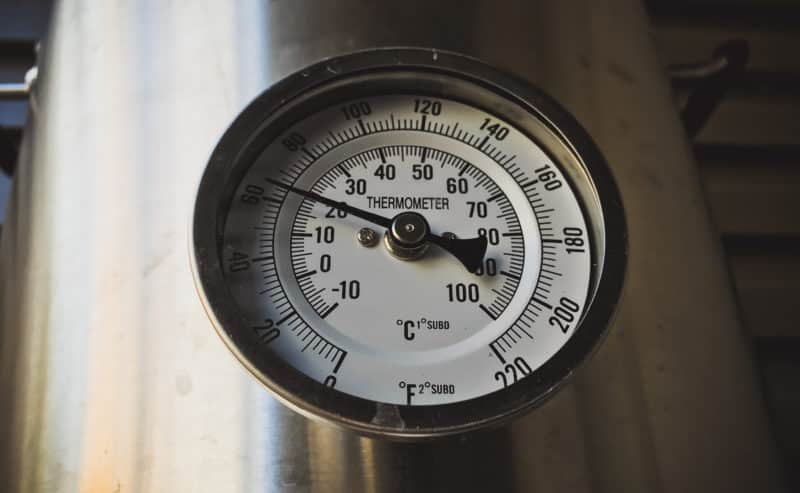 Typically, these are analog dial thermometers fitted somewhere near the bottom third of the brew kettle. The idea is to have it positioned to get a good measure of internal temperature but high enough so that the thermometer doesn't get overheated by the stove when heating the wort.
Although not a necessity, some homebrewers prefer them. If you plan to use your brew kettle as a hot liquor tank in an all-grain brewing setup, they are handy for getting your strike water or sparge water to the proper temperature.
Also, if you plan to use an immersion chiller to cool your wort, keep in mind the length the probe of the thermometer protrudes into the inside of the kettle. If it interferes with the use of an immersion chiller, then a counterflow chiller or plate chiller can be employed instead.
Dip Tubes or Pick-up Tubes
A dip or pickup tube is attached to the back of a ball valve/spigot assembly inside the kettle and reaches down close to the bottom. There are usually two position options: side and center.
Both suck up the wort that is below the level of the valve in the kettle, and both have their pros and cons.
Of course, a dip or pickup tube isn't necessary, since you could siphon the wort. But, it can be a handy addition if your kettle has a ball valve, your methods get more involved, or your batch size gets larger.
The side pickup tube allows you to avoid siphoning off hops or hot/cold break material by picking up from the edge of the kettle after whirlpooling the wort post boil.
The center pickup tube doesn't allow for whirlpooling and is often used with a false bottom or hops screen to filter the wort before it goes into the valve to prevent clogging.
Still, these options may not entirely filter everything out and may get clogged and prevent filtering, depending on your setup and whether you are using whole hops or pellets.
There are various ways to get around these issues such as using a larger mesh screen fastened to the tube or using hops bags and/or whole hops flowers (which provide some filtering).
Induction Ready (Electric Brewing)
Many brew kettles offer induction capability, which is a nice feature, particularly if you think you'll be brewing extra large batches. Induction heating can make bringing your wort to boil a lot faster than using the stovetop or a propane burner, which is another option when you're dealing with kettles and batches too large for the stove.
Induction-ready kettles must be ferromagnetic or contain iron and have a flat bottom. Usually, the manufacturer will indicate whether the kettle is induction capable.
Silicone Handles
If during your brew day you have to pick up a hot kettle, we recommend getting a kettle with coated handles. If you're an electric brewer, these are great. However, if you're using a large burner to heat your wort, you may still need to use oven mitts to lift or move your kettle.
Either way, these coated handles are a nice touch, but not a must-have.
Extra Goodies for Your Brew Kettle
Beyond the standard options, some high-end brew kettles come with extra goodies you won't commonly find. And most manufacturers offer a variety of add-ons and separate components for almost every homebrewing scenario.
Sight Gauge or Sight Glass
As with volume markings, a sight glass is used to measure volume but usually with a little more accuracy. While there are certainly other ways of measuring your wort, a sight glass can be helpful in determining pre and post boil volumes, which are important in hitting your target gravity for a batch of brew.
Some find them more trouble than they're worth, an extra gadget to clean, other homebrewers swear by them. They do look cool though. The Blichmann kettle below offers this as a standard feature.
Trub Dam or Trub Blocker
A trub dam is usually a small piece of metal welded to the bottom of the brew kettle in front of the valve or dip tube. If you whirlpool your wort before draining your kettle this little feature is handy for preventing hops and break material from being sucked away from the center and clogging the valve.
You won't find this feature very often. One notable exception is the Ss BrewTech Kettle listed below. In this case, the trub dam is welded to the end of the dip tube. The dam is covered with a silicone gasket as well to make a seal against the bottom and prevent materials from sneaking in underneath.
Hop Screen or Kettle Strainer
Hops screens come in a variety of designs to prevent hops and break materials from clogging the valve as you pour off the wort from the kettle. Though a hops screen isn't ordinarily a standard feature, it can be a nice bonus.
Keep in mind, some work better than others, and their effectiveness will depend on various factors such as: what type of wort chiller you use, whether you are using whole hops flowers, pellets, or a hops bag, and whether your whirlpool your wort.
False Bottom
A false bottom is a metal disk perforated with holes to allow liquid through to the bottom of the kettle or mash tun while holding solids on top. It is not a standard feature of brew kettles.
Typically used if purposing your kettle as a mash tun for all-grain brewing but can also filter hops. It works best with whole hops since hop pellets create a sludge that can clog the holes.
Now that you've gotten an overview of most of the options, here are the top choices for best brew kettles. If you have a recommendation for a great kettle you don't see here, we'd love to hear about it.
The Best Economy Brew Kettles
1. Concord Home 10-Gallon Brew Kettle
It doesn't get much more economical than this for a new brew kettle with features such as valve and thermometer. Concord also offers higher priced custom kettles with an optional tri-clad bottom and TIG welded bulkheads.
Polished 304 stainless steel
1mm thick walls
Single thickness bottom (not triclad)
No volume markings
Riveted handles
Weldless construction
Ball valve & thermometer included
14″ diameter x 15.5″ high
10, 15, 20 and 50-gallon options available
CONCORD Stainless Steel Home Brew Kettle Stock Pot (Weldless Fittings) (40 QT/ 10 Gal) Price: $108.98
If you click this link and make a purchase, we earn a commission at no additional cost to you. Last Updated: 12/04/2018
2. Tall Boy® Home Brewing 10-Gallon Kettle
A great brew kettle at a great price. If you prefer naked simplicity in your brewing equipment or you don't have the budget for a more tricked out kettle, this is a solid choice.
304 stainless steel
Tri-clad bottom, 4mm
No volume markings
Riveted handles
No ball valve or thermometer
13.3″ diameter x 16″ high, an optimal 1.2:1 size ratio to reduce losses due to evaporation during the boil.
8, 10, 15-gallon options available
Tall Boy Home Brewing Kettle Stainless Steel Stock Pot - 10 Gallon Capacity - 40 Quart Price:
If you click this link and make a purchase, we earn a commission at no additional cost to you. Last Updated: 12/04/2018
3. Bayou Classic 10-Gallon Brew Kettle
Another good choice for an economy kettle with some features. This kettle is also offered with an option of a false bottom and a hops screen for all-grain brewing. The 10-gallon size all-grain set can be found on Amazon.
304 stainless steel
.8mm sidewalls
5mm tri-clad bottom
Internal volume markings in gallons and quarts
Welded handles
2-piece ball valve & thermometer, weldless bulkheads
13.6″ diameter x 16″ high
Available in 8, 10 and 16-gallon sizes
The Best Mid-Range Brew Kettles
1. MegaPot 1.2™ 10 Gallon Brew Kettle
MegaPot has an excellent reputation for being a high-quality brew kettle. Heavy duty stainless steel with a polished band around the upper rim to reinforce rigidity. Optimized sizing at 1.2:1 proportions. These brew kettles feature their unique IsoFlow™ Single Piece Bulkhead fittings. Can be used a mash tun with the addition of the Titan™ False Bottom, IsoFlow™ 3/8″ Hose Barb, and some 3/8″ high-temp tubing.
304 stainless steel
.8mm
4mm tri-clad bottom
Internal volume markings in gallons
Riveted, silicone grip handles
Weldless
Ball valve included
Thermometer, $50
Pick up tube, $30
14.1″ diameter x 16.3″ high
Available in 8,10,15, 20 and 30-gallon sizes
Brew Kettle: Stainless Steel Stock Pot for Homebrew (Kettle with a Valve and Thermometer, 10 Gallon) Price: $216.98
If you click this link and make a purchase, we earn a commission at no additional cost to you. Last Updated: 12/04/2018
2. BrewBuilt 10 Gallon Brew Kettle
A versatile kettle with lots of little details makes this kettle a great option, such as very thick heavy duty walls, welded couplers, and notched lid with a silicone plug. The dimensions are optimized at 1.2:1 for minimizing evaporation.
Half-inch male threads on the outside and 1/2" female threads on the inside make it easy to customize with any of the many accessories available.
304 stainless steel
1mm sides
4mm tri-clad bottom
Internal volume markings in gallons
Riveted, silicone covered handles
Welded couplers
Ball valve
Thermometer $34.99
13.78″ diameter x 16.54″ high
Available in 10, 15, 22 and 30-gallon sizes
BrewBuilt 10 Gallon Stainless Steel Brew Kettle Price: $199.99
If you click this link and make a purchase, we earn a commission at no additional cost to you. Last Updated: 12/04/2018
The Best High-End Brew Kettles
1. Kegco 10-Gallon Brew Kettle
The Kegco is a lighter weight kettle than others in the lineup, due to it's slightly thinner walls, but it is still robust and durable.
It features two standard 7/8″ accessory holes and two weldless bulkheads allow for easy cleaning and customizing.
22 gauge 304 stainless steel
Tri-clad bottom
Internal volume markings in liters and gallons
Riveted silicone handles
Weldless bulkheads
2-piece or 3-piece ball valve
Thermometer, $24.58
14.5″ diameter x 16.5″ high
Available in 6, 8, 10, 15, 20, 30 and 50-gallon sizes
Kegco 10 Gallon Brew Kettle with Thermometer & 2-Piece Ball Valve Price: $270.00
If you click this link and make a purchase, we earn a commission at no additional cost to you. Last Updated: 12/04/2018
2. Spike Brewing 10-Gallon Brew Kettle V3
A heavy-duty, high-quality kettle with the thickest walls on the market. Featuring a polished finish and TIG welded couplings, as well as a domed bottom to allow hop material to collect after whirlpooling, making it easier to filter off clear wort.
1.2 mm stainless steel walls
5 mm tri-clad bottom
Internal volume gallon markings
Welded couplings
Valve & thermometer sold separately
Induction capable
13.8″ diameter x 17″ high
Available in 10, 15, 20, 30 and 50-gallon sizes
Induction capable
3. Blichmann BoilerMaker™G2 Brew Kettle
High-quality design and impressive features such as a sight gauge and the G2 linear flow valve make this kettle a standout.
This kettle is a single piece, weld-free construction with a brushed finish, and glass-filled nylon handles that resist impacts and are extremely durable, temperature resistant and cool to touch.
The adjustable angle BrewMometer™ has a unique patented brewing dial face. Dimensions are optimized at a 1.2:1 ratio.
Extras such as the patented Button Louver™ false bottom, patented HopBlocker™, AutoSparge™ and snap-in dip tube make this kettle about as feature rich and adaptable as it gets.
304 stainless steel single piece construction (not triclad)
Internal volume gallon markings
Welded couplings
Patent pending G2 linear flow valve
Adjustable BrewMometer™(thermometer)
Snap-in dip tube
Heavy-duty borosilicate glass level gauge comes standard
13.9″ diameter x 16.4″ high
Available in 10, 15, 20, 30 and 50-gallon sizes
Blichmann Gas Boilermaker G2 Brew Kettle (10 gal) Price: $309.99
If you click this link and make a purchase, we earn a commission at no additional cost to you. Last Updated: 12/04/2018
4. Edelmetall Brü® Kettle – 10 Gallon
The Edelmetall is the Cadillac of brew kettles. If you have the budget for some goodies, this kettle is chocked full of top of the line features.
It also comes with a unique tangential whirlpool port for pulling debris to the center of your kettle, allowing the transfer of ultra-clear liquid. This movement also aids in the rapid chilling of the wort and better precipitation of the cold break when used with an immersion chiller.
304 stainless steel
0.8 mm wall thickness (8 and 10 gallons), 1.0 mm (15, 20, and 30 gallons)
4mm tri-clad bottom
Etched volume markings in gallons
Riveted, silicone covered handles
Weldless ports
Ball Valve
Adjustable thermometer
IsoFlow™ dip tube slides in and can be rotated into position and removed for easy cleaning.
14.1″ diameter x 16.3″high
Available in 8, 10, 15, 20, and 30-gallon sizes
What's The Best Brew Kettle For You?
While choosing amongst the vast array of brew kettles available can feel like a big decision, I hope this article has helped narrow down the options and weigh the relative merits of various features against your brewing aspirations.
If budget prevents you from springing for a kettle with all the bells and whistles you desire, remember that some of the best beers have come from simple tools. Or if money's no object, and the options still seem daunting, remember that finding the "perfect" kettle can be as elusive as finding the holy grail.
Take a deep breath and remember that brewing should be enjoyable. So, don't stress too much, and like Charles Papazian always says, "relax, have a homebrew!"
Craft The Best Beer You'll Ever Taste
Advice for modern brewers seeking to craft the perfect pint. Subscribe to our weekly homebrewing newsletter.